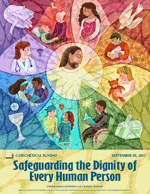 All volunteers are required to receive the Archdiocesan Safe Environment Training prior to helping in a classroom setting, a program function, or being a driver for an outing. The training includes a background check.
Volunteers are always needed for religious education classes, receptions, sacrament preparation classes, summer programs, the R.E. Office, and the Advisory Council for Catechesis (ACC).
Materials for any program/class are supplied.
You need not have previous experience.
Bilingual (English/Spanish) volunteers are always welcome.
Teens who have completed Confirmation II and who have received the Sacrament of Confirmation may teach or co-teach in a class setting.

Teens in Confirmation I and Confirmation II are always welcome to assist the Catechist in the classroom.